Natural Moist Clay Heat 
Benefits of moist heat therapy over dry heat are well established for pain relief due to arthritis, myofibrosis, back pain, muscle strains and spasms.
The use of hydrocollator moist clay heat packs have been trusted by physiotherapists, massage therapists, physicians, chiropractors, athletic trainers and kinesiologists for over 60 years.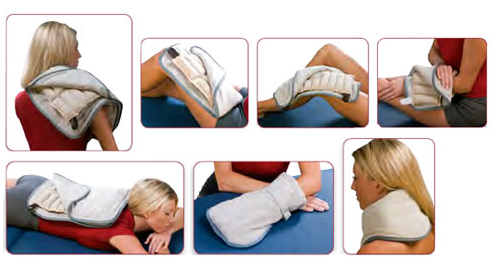 The all-natural heat packs contains bentonite, a natural hydrocolloid filling, and are wrapped in a woven cotton blend,  The clay packs are then heated in hot water between 160 and 170 degrees Fahrenheit, and applied wrapped in towels to transfer heat appropriately to more common and/or specific treated areas.  Delivers up to 30 minutes of deep, soothing and moist heat relief. 
Choose to add a Free Hydrocollator Clay Heat Pack #1 shoulder neck contour pack only to your next massage therapy treatment.
By Request Only (Simply add a note 'clay heat pack' when booking online appointment)
#1

For more complete relief from your aches and pains, choose to book your massage with the added 3 Clay Heat Packs for only $15. (Billing Insurance Applicable)
                           #1                                                    #2 (double)

BOOK YOUR NEXT MASSAGE WITH THE POWER
OF NATURAL MOIST CLAY HEAT PACKS